Review on New Accommodation at Gilsland Park, North Berwick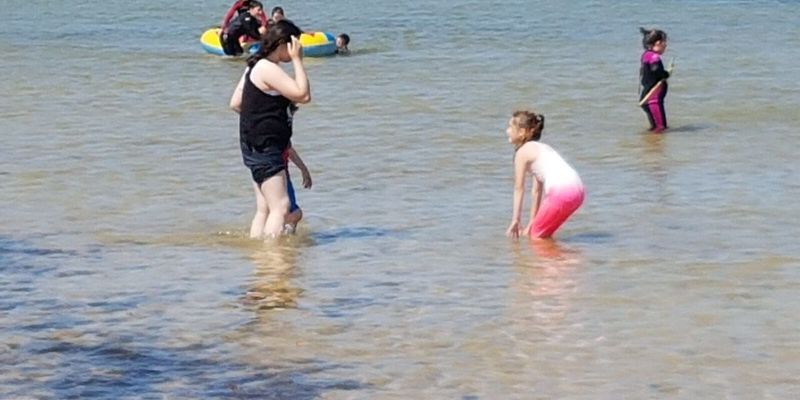 I live in East Lothian but still decided to go on holiday to North Berwick and had a fab week!
Myself and my cousin always like to take the kids away for a week together in the summer holidays as they don't see much of each other during school terms. Somewhere we can relax and enjoy a good catch up and the kids can play. This year we didn't venture very far at all and decided to try out Gilsland Park in North Berwick and their brand new Family Studios! The Park and North Berwick are great places for a short break and being close to home meant my hubby, who couldn't take any more time off work was able to join us for dinner and the evening and then head off to work each day. We took 2 studios next to each other, which meant we had ample space yet could nip in and out easily.
The Family Studio was great little base and very well equipped.
The beds are very comfy and it's definitely a bonus having your own toilet and shower room - especially when holidaying with wee ones on your own. The cooking facilities are ample – we ate breakfast and lunch in the new camp kitchen which is a lovey space to sit in the mornings - inside or outside! At night we went out for dinner, I would recommend The Ship Inn on Quality Street if you're dining out with kids. You can collect a "kids eat free" voucher at reception - so don't miss out on that! We also tried the Italian restaurant, Zitto's - food was amazing. Kids loved the pizza and there's also a special 15% discount card for Gilsland Park customers - again collect it at reception - Fab!
The kids made lots of friends with other kids on the park and loved the freedom it gave. Myself and Tanya enjoyed watching them and the beautiful sunsets from our decking.
"Loads to do for kids in North Berwick"
There's loads to do in North Berwick. On a glorious sunny day we went to the beach and spent the whole day. Myself and Tanya don't drive but this was only a 15-20 min walk from the park!
We also took the kids swimming at the local pool which has free swimming for kids during the summer holidays. Great and, again, all in walking distance from the park. We also went spent some time at Fingers and Thumbs – a great crafts studio for kids in North Berwick.
On one of the days we stayed there was quite heavy rain but we all went up to the Laundry room on park where there is a great toy, book and dvd library. We choose some dvd's and all went back to our studio for a nice, cosy day watching films.
There are still other places and activities in North Berwick that we could have visited or done but didn't. Like; the SeaBird Centre, a Boat Trip or a Climb up the Law. Perhaps we'll leave those for another time! The kids didn't want to leave and are already pestering us to book another stay.
We will most certainly be back. Thank you Gilsland for and amazing holiday.
Back to News & Blog