About us
A Family Affair since the 1930's ………Gilsland Park is and will continue to be a family focussed holiday park where everyone enjoys good, old fashioned fun and quality time with those dear to us. We are especially proud that we have known generations of customers who have all enjoyed special times at Gilsland.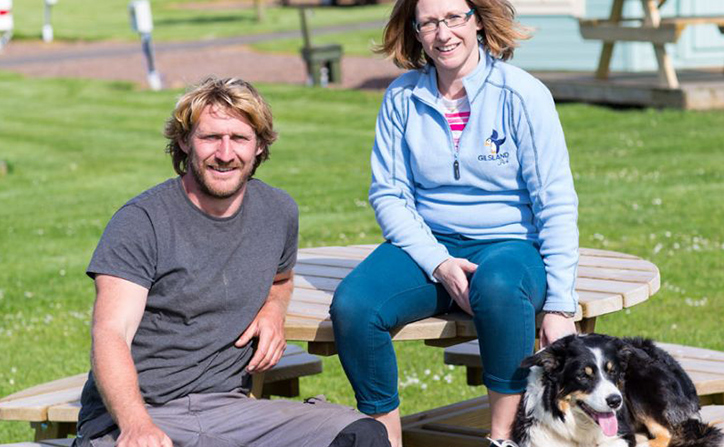 In the 1930's; Gilsland was bought by Dr Robert Macnair, a GP in Leith, Edinburgh. He saw the Old Fever Hospital was up for sale outside North Berwick and believing in the healing properties of good, clean, fresh seaside air he thought it a perfect place for his patients to convalesce. At that time, there were no caravans. Accommodation was whatever people could get their hands on! A train carriage was lovingly converted into living accommodation, as was a single decker bus! The "on site facilities" consisted of a water tap in the middle of the field! Everyone supplied and attended to their own privy. The grass was mown by a small flock of sheep and people cooked and kept warm around coal or gas stoves. People were definitely tougher and easier to please in those days!
In the 1950's; Grandpa John and Granny Pat made Gilsland their home and work with their very young family of Bill, Johnny and Wendy. With a lot of hard work they cleared a large area previously used for pigs and veg growing to allow more caravans which were now becoming more readily available. The '60's saw the arrival of the toilet & shower block. Grandpa was so proud and it was indeed a brave investment taking all the money they had at that time. Granny put a number of holiday vans at the top of the site and often it was the same families that would return year after year. The grass was now regularly cut by mowers. See-saws and swings were provided for the kids to play on and there was a large colony of Guinea Pigs. Wendy's goat, Toffee, caused mayhem wherever she went; terrorizing the kids by head butting them on their way to the toilets or nibbling unattended wellies. Granny opened a shop in one of the old wards selling everything from meat, milk, bread and papers to sweeties and buckets and spades. Aunty Bessie then ran the shop for many years opening at 7.30 every morning. It was a busy shop as many didn't have cars nor fridges. Uncle Bill (senior), cleaned the toilets and cut the grass and the second ward was put to a number of different uses; a TV lounge – with one TV (black & white) put on for a couple of hours in the evenings; A prize bingo hall and laterally a very successful fish and chip shop run by Aunty Bessie and Uncle Bill. The best fish and chips in North Berwick! This very same Bingo hall was home to Myself, my wife Lucy and our two sons Freddie and Paddy!
The donkeys were a big part of Gilsland scenery. Johnny my dad, had 4 donkeys, Chips, Cherry, Jenny and Sandy for many years he did donkey rides round the site and on the beach. Wendy then took over as donkey girl and later, Grandpa got the grandkids donkeys to carry on the tradition. He managed to find Jenny again – who was now very old but remained the best working donkey we ever had. Then there was Cindy– the pretty one, Pepe – the little one and Neddy – the completely neurotic one!
Gilsland was a busy, busy place but such fun. Much of the hard work and developments were done on a Sunday when friends and family were drafted in to do whatever was required with the promise of a slap up Sunday Roast put on by Granny – her gravy was legendary!
In 1990 Granny and Grandpa retired to a house by the sea and Bill, grandpa's eldest son and his wife, Anna, took over. Granny was happy to retire, enjoying the views and trying to spend more time painting but Grandpa loved his involvement in the site and visited Gilsland daily, walking round, telling everyone how things should be done! Caravans had changed beyond recognition now with central heating, double glazing not to mention their own bathrooms. With so many changes it was now evident that the old site needed upgrading. Bill and Grandpa put plans afoot to expand and develop a new static caravan park with all the modern day facilities. This was completed in 2002 and both sites ran alongside each other until 2012 when, after running the site for 23 years, Bill and Anna decided it is their time to retire.

So, 2013 saw another new era for Gilsland with myself Adam being delighted to take over the reins. There has been a big focus on growing and developing a holiday side to the business that can offer a range of accommodation to allow for a broad range of visitors to enjoy the park and the local area. Excited and enthusiastic for my place in the family history we have set about developing Gilsland Park for the future whilst always keeping true to our family values instilled in us by the previous generations.
We hope to see customers old and new at Gilsland to make great memories as, well as becoming a part of Gilsland Park themselves.
Adam
The 4th generation of Macnair at Gilsland.